FORST ST6

 Towable Wood Chipper
A rock solid, reliable, performance driven professional 6" wood chipper for sensible people and at a sensible price.
What meets the eye is pretty good but there is much more to Forst than that, read on to find out more about the features of this machine and don't leave this page until you have made contact to arrange a demonstration on your work site. You won't be disappointed.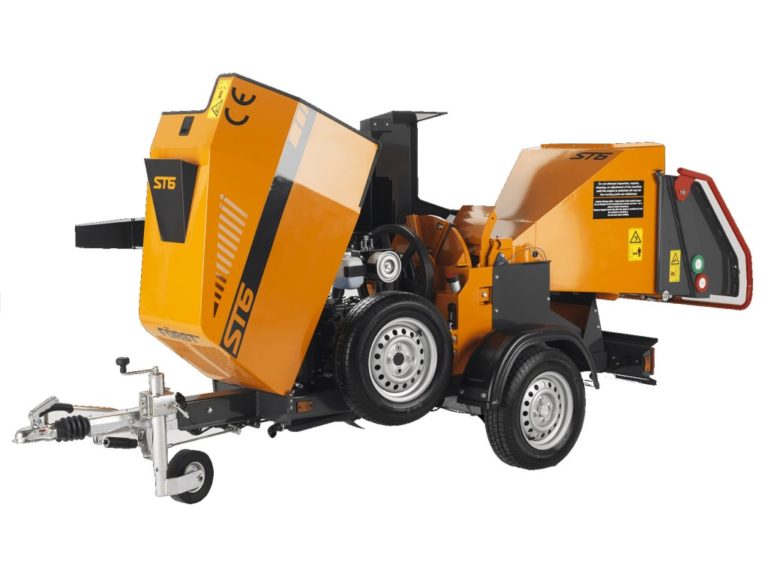 Technical Specifications
| | |
| --- | --- |
| Feed Roller Apperture | 6" x 8" (150 x 200mm) |
| Feed Roller System | ForstGrip Feed Roller System |
| Flywheel System | Open Top Flywheel (640 x 25mm) Twin 8" Blades |
| Engine | Kubota Diesel (V1505) 35hp |
| No Stress System | AutoIntelligence No Stress Device |
| Feed System | AutoIntelligence Fully Water & Vibration Proof Touch Pads |
| Fuel Capacity | 30 Litres |
| Noise Level | Lwa 122db |
| Machine width | 1300mm |
| Machine Length | 3577mm |
| Machine Height (Chute On) | 2297mm |
| Weight | 955kg |
| Brakes | Fully Braked Chassis & Handbrake |
FITTED WITH 'AUTOINTELLIGENCE' CONTROL SYSTEM
'AutoInteligence' is an intelligent feed and stress control system doubling up as your on board service department. AutoIntelligence not only controls the speed of the feedrollers and nostress device but tells you when a service is due and keeps you in control and up behind the servicing and maintenance of the machine.
FORSTGRIP FEEDROLLER SYSTEM
ForstGrip is a highly effective and aggressive system designed to break awkward limbs and take away all tree waste and material. The horizontal running, oversize top feed roller is designed to climb up large butt ends, making it easy to feed the machine. The feed rollers are supported both sides by large robust bearings.