Forst TR6

 Tracked Wood Chipper
Nothing wanting. Bringing versatility into another realm, the Forst TR6 tracked wood chipper is the solution for the contractor working far of the beaten track. Trust the TR6 for reliable, high performance efficiently when getting the job done is of all essence.
This machine is as hungry for work as you are for efficiency.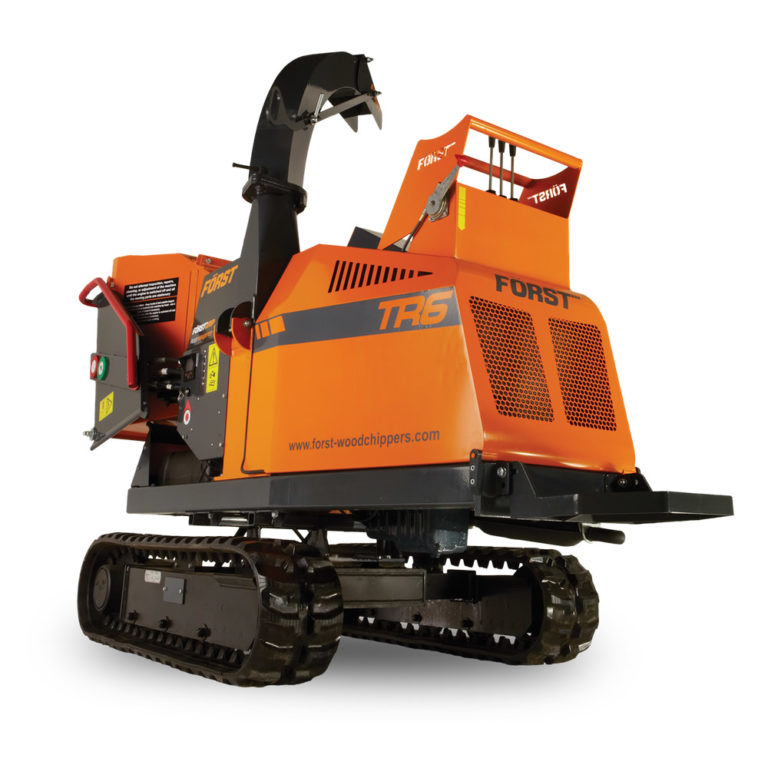 Technical Specifications
| | |
| --- | --- |
| Feed Roller Apperture | 6" x 8" (150 x 200mm) |
| Feed Roller System | ForstGrip Feed Roller System |
| Flywheel System | Open Top Flywheel (640 x 25mm) Twin 8" Blades |
| Engine | Kubota Diesel (V1505) 35hp |
| No Stress System | AutoIntelligence No Stress Device |
| Feed System | AutoIntelligence Fully Water & Vibration Proof Touch Pads |
| Fuel Capacity | 30 Litres |
| Noise Level | Lwa 122db |
| Machine width tracks in/out | 800mm/ 1150mm |
| Machine Length | 2650mm |
| Machine Height (Chute On) | 2450mm |
| Weight | 1300kg |
| Track Base | Variable |
Narrow Access
At only 31" wide with tracks retracted and when hopper removed the TR6 will fit through a pedestrian doorway, this machine is super agile
'AUTOINTELLIGENCE' CONTROL SYSTEM
Highly intelligent bespoke build electrical system managing the no stress device, making sure you never miss a service and many other functions.
'FORSTGRIP' ROLLER SYSTEM
Twin hydraulic horizontal feed roller system offering exceptional grip on timber. The large top feed lifts on an arc, climbing toward the timber rather than lifting straight up and down, this makes climbing butt ends exceptional.  High tension due to twin heavy duty springs and a large bearings supporting either side of the top feed roller ensures strength and durability.